New Zealand seems to have it all; secluded white beaches and palm trees, clear waters and hidden coves, waterfalls and still lakes, green forests and snowy mountains, steep fjords and rolling pastures, raging rivers and active volcanoes. The country's varied landscape is stunningly diverse and naturally breathtaking.
Out of all the incredibly beautiful New Zealand countryside, the Southern Alps, located on the South Island, is probably the most magnificent. The snow-capped mountains rise up above clear blue lakes, and provide a stunning backdrop for the towns of Glenorchy, Queenstown and Wanaka, as they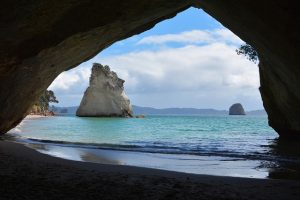 continue southwards. The highest peak of New Zealand, Aoraki Mount Cook, is located just behind the mountains of the Southern Alps.
The stunning Fiordland National Park, where densely forested steep mountains rise from the sea, is another strikingly beautiful area of the country, where water and mountain meet. One of the most beautiful spots in the National Park is Milford Sound. Even the road to this spot offers exquisite views, which are only surpassed by the views from the Sound itself.
New Zealand also has several glaciers, notably in the Westland National Park. The Fox and Franz Josef glaciers are unusually close to sea level and are sustained by the copious amount of rainfall that descends on the West-coast of the island.
There are many volcanoes in New Zealand, some of which are dormant, but also some active ones. When approaching Rotorua, one is greeted by the smell of sulphur. The volcano is surrounded by numerous parks that have hot springs and geysers.
The wildlife of the islands of New Zealand is also like something from a fairy-tale. Some of the creatures that are at home here can't be found anywhere else in the world, such as the kakapo, a flightless, nocturnal burrowing parrot, or the kiwi, another flightless bird, who is also the symbol of New Zealand.